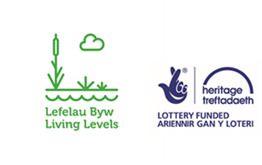 10:30 am - 12:00 pm | 14/05/2021
A series of mini-talks by the Living Levels History Research Volunteers
Have you ever wondered what it was like to visit the Gwent Levels area in the time of Henry VIII? Or indeed at the beginning of the nineteenth century?
Luckily, our history research volunteers can tell you because travellers recorded what they saw during those times.
Join us for a series of mini-talks where the volunteers will present their findings, and find out how you can explore the Levels landscape on foot today!
John Leland: A Tudor View of Monmouthshire – John Chandler
Tours of South Wales in the early nineteenth century – Sian King
A Drive Around the Levels: Easter 1921 – Peter Strong
Levels Loops and Links – Chris Harris
Date: Friday 14 May 2021
Time: 10.30 – 12.00
Platform: Zoom
This is a FREE online event – visit the Living Levels website to book your place:
https://www.livinglevels.org.uk/events/2021/5/14/tours-drives-and-walks-through-the-levels-mini-talks