Glamorgan Archives Blog: Discovering Glamorgan's Past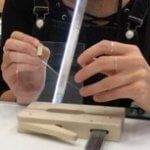 The National Coal Board collection at Glamorgan Archives contains around 4000 glass plate negatives, documenting coal mining in South Wales.  These glass plates illustrate a..
Read More →
If you're seeking information on the impact of the war upon your own family, town or locality, Glamorgan Archives may be able to help.
Our catalogue, Canfod, contains descriptions of over 180,000 items in our collection and is regularly updated with descriptions of new records we receive and new catalogues we create.
Glamorgan Archives serves the County Borough Councils of Bridgend, Caerphilly, Merthyr Tydfil, Rhondda Cynon Taf, Vale of Glamorgan and the City and County of Cardiff.
Glamorgan Archives organises regular FREE events which anyone is welcome to attend.  Our events are based on themes which link to our collections and connect to the community we serve.
Keep an eye on our Events page for details of what's coming up!
see what's coming up
Email, write to us or phone us if you have any questions or to purchase an item from our shop
Glamorgan Archives aims to answer all remote enquiries within 15 working days.