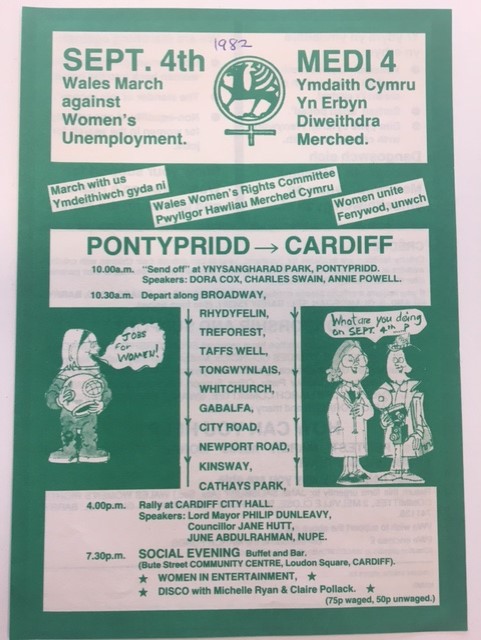 6:00 pm - 7:30 pm | 03/03/2022
Glamorgan Archives events programme
Formed in 1974 by a group of women who had met at a conference, the stated aim of Wales Women's Rights Committee was to 'highlight, initiate and take action on issues which affect the rights of women'.  The organisation acted as a pressure group and as a source of information on a range of feminist causes including employment rights, reproductive rights, access to public services, and violence against women and was the precursor to the UN-accredited Wales Assembly of Women.
In this talk, Dr Rachel Lock-Lewis will explore the formation, growth and achievements of this hitherto under-celebrated campaigning group which in 1979 was described by a representative of the Equal Opportunities Commission as 'the body most active in Wales for equal opportunities'.
Dr Rachel Lock-Lewis is Senior Lecturer in History at University of South Wales and Co-director of USW's Centre for Gender Studies in Wales.
Please note that this event will be held online via Microsoft Teams. You will need to download the Teams app to your device in advance of the event.
A link will be sent you before the event. By registering for this event you confirm you are happy for us to send you communications by email relating to this event only.  Your email address will not be shared or used for any other purpose.
https://www.eventbrite.co.uk/e/wales-womens-rights-committee-1974-1984-by-dr-rachel-lock-lewis-tickets-256717959327